Nike
Air Force 1 Low x Billie Eilish
A memorable sneaker whose look matched its enigmatic designer.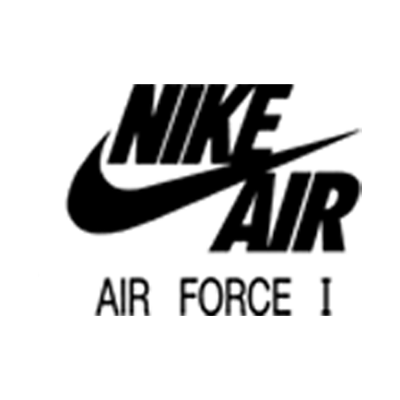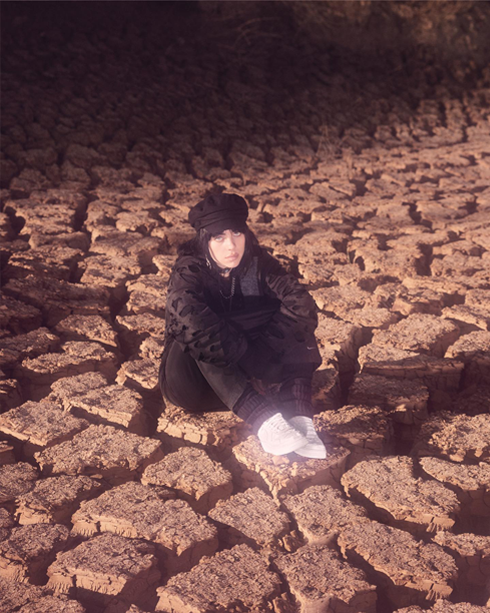 A genuine sneaker fan
Over the years, Billie Eilish has built up a reputation for being quite the sneaker connoisseur, appearing at her shows in rare shoes from top fashion brands. In April 2022, for example, she made a memorable performance as she headlined Coachella Festival in a pair of PSNY x Nike Air Force 1s, which didn't go unnoticed by sneaker aficionados. Around the same time, she launched her own Air Force 1 High to follow up on her two Air Jordan designs from the previous year. Just a month later, fans got their first glimpse of another Air Force 1 x Billie Eilish collaboration. Once again, it brought the star musician's rebellious spirit to one of Nike's most well-known silhouettes – the Air Force 1 Low.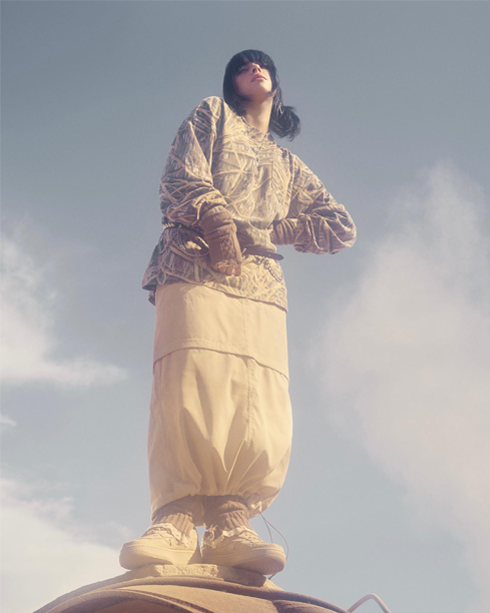 An early but in-depth look
It was on May 19th, 2022, that a set of five pictures of the newly made shoe first appeared online. Rather than teasing just a few aspects of the design, these images presented it from several different angles, giving a clear view of many of its defining features. It had a monochrome Mushroom outer, just like one of her High models, with an upper that combined a soft layer of nylon with a patchwork of randomly shaped pieces of leather. There was also a closeup of the lace dubrae, which was embossed with Billie's famous Blohsh logo, alongside pictures of the classic tongue patch and heel panel, as well as the dual-branded foam sockliner. It was also rumored that there was a secret song lyric printed on the footbed beneath the insole. This later proved to be true as the words "It's hard to stop once it starts" could be discovered by removing it. The same lyric was also presented on the customized boxes the shoe came in, as was the aforementioned logo.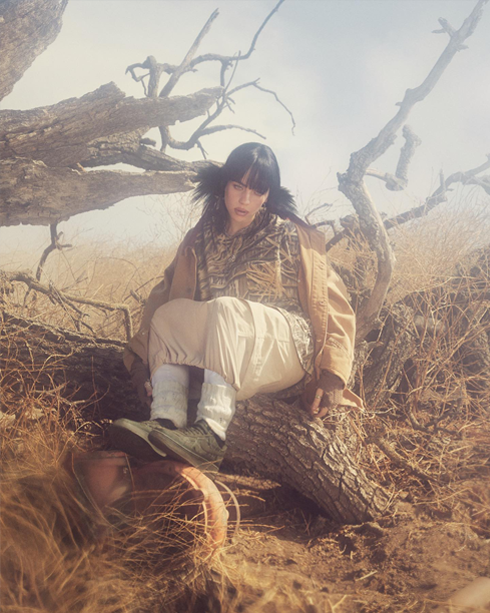 Billie is back
After these earlier photos became available, they were shared far and wide, leading to a build up of hype that saw sneaker fans and avid followers of the young singer speculating about when they might be able to get their hands on a pair. Some suggested that the release could be as early as September of that year, but they were made to wait longer than that just to see the next announcement. It finally came on 30th November, 2022, when both Nike and Billie put out similar posts on their Instagram pages. On Nike's, there was a simple video featuring a montage of Billie, with closeups of her as well as the Mushroom and Sequoia colourways that were to be released. Twinkly, minimalist music played over the top, and a grainy texture covered the film, creating a dreamy, nostalgic atmosphere. At the end, the trademark Billie Eilish text came up on the screen, followed by a Nike swoosh. The comment started with the words "Billie is back", signifying that this was not her first Nike collaboration, then went on to say "And a follow up Air Force 1 collaboration is just the beginning", indicating that it wouldn't be her last either. It also described the shoe's "patchwork mosaic upper that perfectly blends @billieilish's innovative style with reclaimed material from her previous AF1 release", bringing a "fresh look to a classic shoe". Importantly, those waiting for details of when it would be launched received a date – 14th December on the SNKRS App. Meanwhile, Billie's post had one image and two short videos from the same shoot. They only showed the Mushroom colourway, and her comment was very much focused on the sustainable aspect of the sneaker – "I loved that we were able to use leftover material from my AF1 high launch to create this shoe and i'm so happy with how it turned out."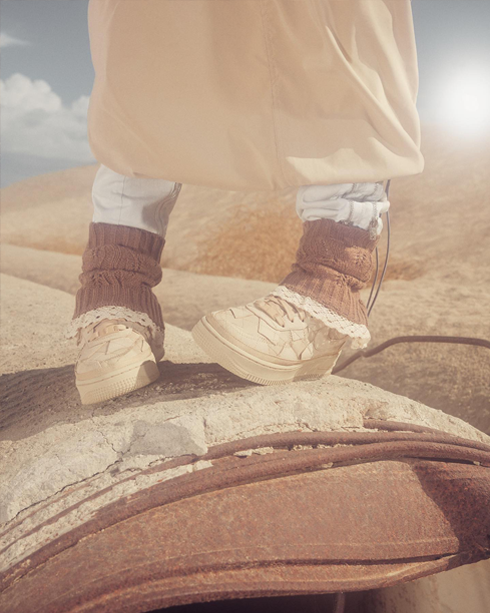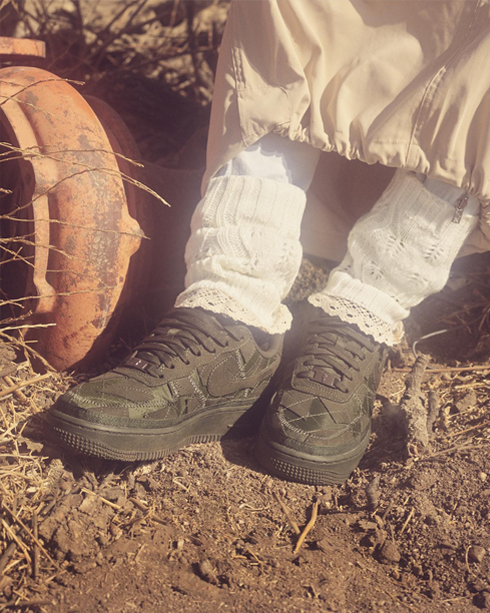 Creating a better world
These two posts were tied together in a more official capacity via Nike's newsroom page, which once more highlighted the use of "leftover material waste from the artist's prior collaborative AF1 High" as a reflection of "Nike and Eilish's shared commitment to taking action to create a better world". It also mentioned that the shoe was part of Nike's "40th anniversary celebrations for the Air Force 1" to reflect "how the silhouette has become a canvas of creativity for multiple generations." It contained a direct quote from Eilish explaining her desire for the shoe to "tell a story" about how important it is to recycle and look after the planet. At the bottom of the page, the video and pictures from the Instagram posts could be found below a line about the dates of the sneaker's release – 13th December on Billie's website and 14th December globally.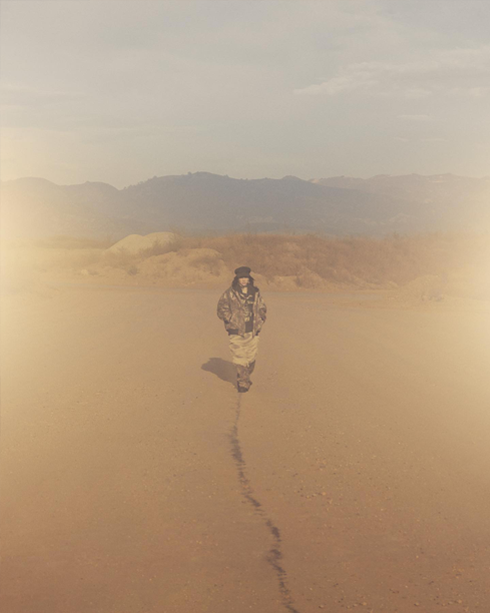 Approaching the release
As these dates neared, Nike promoted the shoe on its Instagram page one final time, posting a series of pictures from the previous shoot along with another short video the day before it was due to appear on Billie's website. The comment once again drew attention to the eco-friendly side of the design, stating how it was "mindfully created with leftover materials", while also emphasizing Billie's involvement in the process with a quote from her – "When designing with Nike and the footwear team, I loved learning new techniques and ways to create new interpretations of Nike classics through intentional recycling measures." The award-winning artist followed up with her own Instagram post featuring five images from the shoot, beginning with a closeup of the Mushroom colourway and ending on one of the Sequoia version. It had a simple comment attached to it that invited people to her online store. The post accrued almost 3.5 million likes, signaling the potential popularity of the collaboration.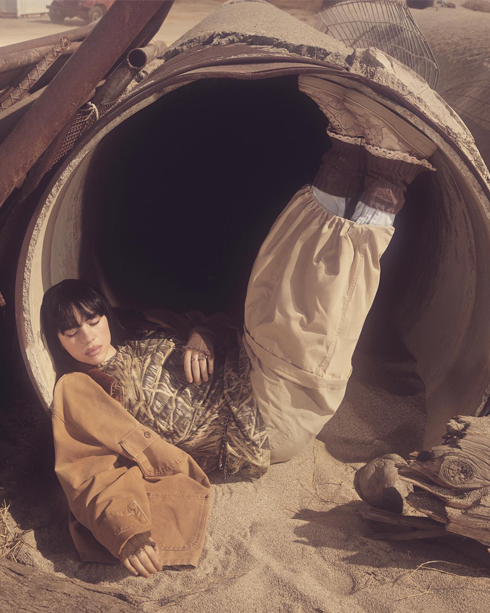 The all-white colourway
In fact, the Air Force 1 Low x Billie Eilish was so successful that a third colourway was produced the following year. It was teased online in early March, when descriptions noted that it would be similar to the previous iterations, featuring the patchwork of leather pieces upon a quilted nylon upper, the strip of textile around the entire shoe just above the midsole, the exposed stitching criss-crossing the outer, Eilish's Blohsh logo on the lace dubrae and the dual branding on the insole. Then, on March 13th, 2023, Billie timed her Instagram post to coincide with Nike's once more as the pair both put out a video of her with glimpses of the new white-on-white colourway on her feet. The singer's post, which this time attracted more than 5 million likes, also had a picture of her standing in a dried out pond wearing the shoe. She kept her comment short and sweet, announcing the "@nike AF1 low in white" alongside the dual release dates of 22nd March in her online shop and 23rd March on Nike's SNKRS app. The sneaker brand gave a bit more hype to the design, writing that it was "a future favorite with infinite styling options." Each of these days had its own dedicated post as well, with Billie adding a close up of her wearing the new colourway alongside another video to mark her release, and Nike mirroring this with a similar image and video pairing to highlight the shoe's launch through its online platforms and partner stores. The comment started with a straightforward call to action – "Make them yours" – before explaining that the latest Low sneaker was "inspired by the many facets of your style, no matter what they may be", making it clear that this was a shoe for everyone.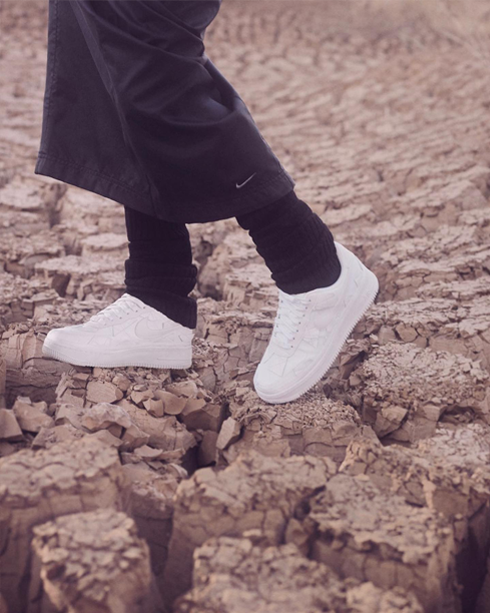 Respecting a classic
In the description on Nike's website, the sneaker was said to celebrate "new beginnings" and balance "a progressive and contemporary perspective with a heartfelt respect for the classics." This was reflected in its unconventional upper and classic AF1 shape, a combination which brought it tremendous success. As it had been throughout the development and launch of all three colourways, the brand was keen to emphasize the recycled aspects of the shoe, including the "foam scrap in the sockliner" and Nike Grind on the outsole – a composite of reused materials from the production of previous models, repurposed shoes from the Reuse-A-Shoe program and even footwear which could not be sold. This led to praise from various online sneaker magazines, who lauded its sustainability and minimal environmental impact, winning it even more fans around the globe.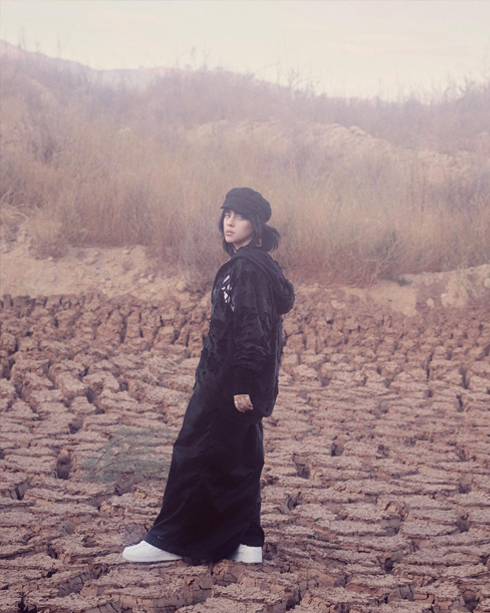 A growing collaboration
With the Nike Air Force 1 Low x Billie Eilish, the talented musician proved once again that she has a flair for fashion and design. Her desire to send a message through the use of sustainable methods in its construction was a commendable one that impressed both her followers and fans of the brand. She brought her own individual style to one of Nike's most well-known silhouettes without compromising its iconic appearance, resulting in a rebellious shoe with a look that was both powerful and relatable. It took Billie's tally to four popular designs in just two years – a promising sign for the future of this powerful collaborative pairing.