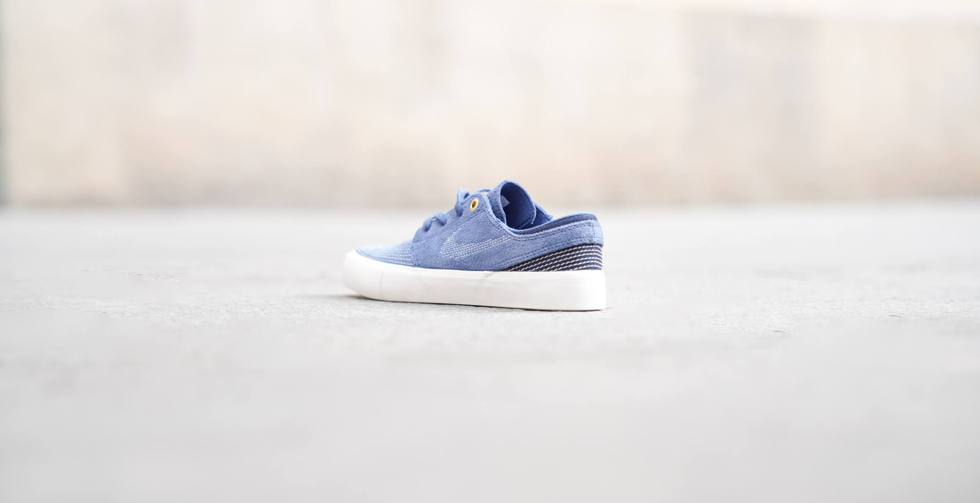 Janoski
Stefan Janoski skates with a surprisingly relaxed style, performing daring tricks with an effortless grace that makes them particularly impressive. This has earned him admiration and respect within the skating community. Meanwhile, in his personal life, he is a man with a creative spirit who has loved art since his childhood. To this day he maintains a number of artistic hobbies, such as writing, playing music, sculpting and painting. In the late noughties, the combination of his love for skating and this innate creative energy brought about a remarkable shoe: the celebrated Nike Janoski.
California-raised Janoski joined Nike in 2002 as part of the drive to establish its skateboarding department, Nike SB, with the expert advice of skaters. After time, the brand realized that Janoski was a gifted, passionate artist with concrete ideas about what he wanted in a skate shoe and a steadfast, direct attitude to his work. In short, they had found the perfect man to design their next skate model. Thus began a storied partnership that would change the direction of Nike's skating division.
At the time, Janoski wasn't keen on most skate shoes, so when Nike presented him with a potential design, he dismissed it based on both style and utility. He was determined to make his own sketches, employing the artistic skills he had developed throughout his life. As a youngster, he had grown up in a skating scene that embraced shoes which were not made for the sport but just happened to be well-adapted to it. Through the 90s, Nike released new basketball designs with thicker soles which didn't offer the feeling of being connected to the board that so many skaters had appreciated in earlier models, making them less popular within the scene.
Janoski wanted to bring back the thinner sole and avoid what he saw as the over-padding that afflicted many designs of the day to create a shoe that matched the needs of his community. He began preparing hand-drawn images of his perfect skate shoe and, after going through a process of collaboration with Nike's Senior Creative Director, James Arizumi, and Kevin Imamura of Nike Footwear, Janoski found exactly what he wanted. The design showed a minimalist silhouette that looked completely different to other shoes built by Nike. It had very particular requirements: there were to be no superfluous elements and only minimal fabric was to be used. He requested a flat toe, a tongue with no extra padding and a paper thin outsole so that he could feel the board beneath his feet.
For Janoski, these were foundational aspects of the design, but his minimalist approach was some distance from Nike's then aim of displaying exciting technological progression with every new model. Nike had been expecting something more hi-tech, like their other athlete collaborations, not a minimal design that harked back to a bygone era. However, Janoski was not to be deterred. For him, Nike was a brand which could break with convention. He knew exactly what the shoe should be like and wasn't worried about losing the deal. Ultimately, he was designing it because of his passion for skating, not for fame or recognition. If he was going to have his own signature shoe, it was going to be something he loved, otherwise there was no point doing it. This approach allowed him to stand his ground without wavering and, in the end, the brand agreed to his suggestions. The only compromise Janoski made was to allow a swoosh to be added to the upper, agreeing with Arizumi that it was a good idea to emphasize that this was a Nike design, given that it looked so unlike all their other shoes.
A design having been agreed upon, the prototype was sent to the factory for production. It was so stripped back that Nike were initially told it couldn't be produced as it was too low to the ground to be manufactured legally. Showing trust in Nike Janoski's simple but unconventional design, Nike signed a set of waivers that allowed the shoe to be made – a decision they would certainly not regret in the years that followed.
When the Nike SB Zoom Janoski arrived on the shelves in 2009, it was simply known as the 'Janoski'. The skater's love for his sport shone through in its practicality, as did his understanding of the needs of his peers. Its pared-back style, lack of cushioning and versatility made it hugely popular, so it wasn't long before more had to be ordered to meet the growing demand. Within the skating community, the key to its success was its skate-specific design. In line with its minimalist aesthetic, the shoe had very little technology apart from a vulcanized rubber sole, a component that had been around for decades. Although it was the first time it had been added to a Nike SB shoe, for a skater, it made complete sense to use this type of sole as it offered excellent grip and the feeling that there was almost nothing separating the rider from the board. It was also surprisingly durable and easy to break in, so it was ready to skate in almost straight out of the box.
As well as capturing the attention of many skaters, the model also became popular outside of skating circles. The simplicity that had been worked into the design was its biggest strength as it was versatile enough to have broad appeal. It was also easy to produce, making it much more affordable and accessible than many other models. Janoski himself was a huge fan of the shoe as well. With its slim tongue, its long flat toe and its ultra-thin sole, it was exactly what he had been hoping for. In fact, he was so enamored with it that he skated in the original pair Nike gave him until they were too worn to use.
Since 2009, many versions of the Janoski have been brought out, with Nike getting to add some of its more hi-tech innovations to more recent iterations. It has received an Air Max makeover, which turned out to be one of the most popular Nike SB releases ever, has had Zoom technology added to it and has featured in numerous collaborations. To celebrate its ten-year anniversary, a Remastered Collection came out in four different styles: slip-on, velcro, low-top laced and mid-top laced, once again showing its versatility. Janoski even persuaded Nike to release some RM designs without a swoosh, finally allowing him to get the ultimate minimalist skating shoe he had always wanted.
The Janoski's simple design transcended previous skating models to become one of Nike's best-selling skateboarding silhouettes. It has been combined with an enormous variety of Nike models and enjoyed remarkable popularity in its lifetime. Like the man himself, the Nike Janoski is a true icon of both the skateboarding community and the wider world.