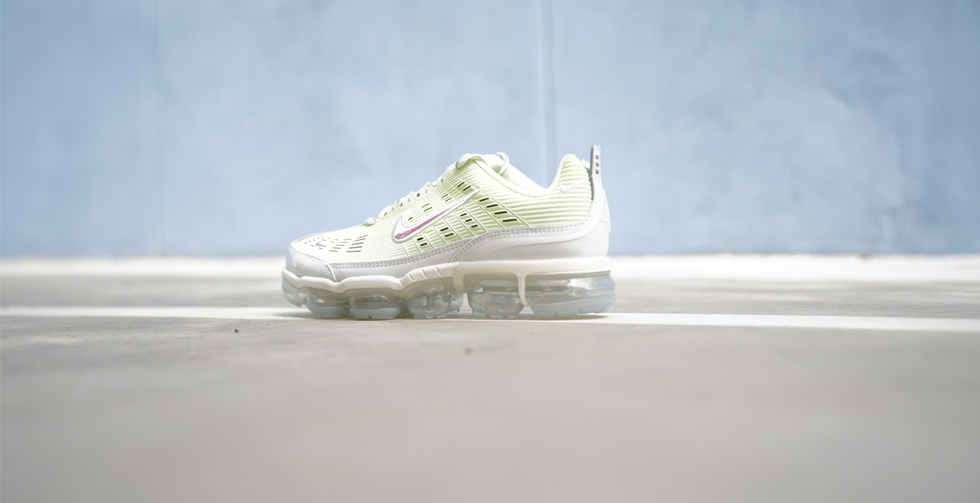 Air VaporMax 360
The Nike VaporMax 360 is a simple portmanteau of a shoe. It is the 2006 Air Max 360 version that has been reinvented in 2018 by way of VaporMax cushioning, which utilizes semi-freestanding, pressurized tubes to create a soft, weight-distributing feel with each step. Itis 2000s style meets Nike's latest breakthrough in comfort engineering.
The original Air Max 360 was situated upon a 360-degree bed of Air, which made it a highly popular running shoe and thenceforth became the foundation for future full-length Air Max models. This made the silhouette a perfect prospect to be hybridized by Nike's new VaporMax technology, a full-length, ultra-lightweight, and seamless midsole-outsole technology.
The upper has retained the recognizable lightweight welded synthetic TPU skin which creates a vortex-like, futuristic aesthetic. A breathable mesh tongue runs all the way down the center of the shoe, transitioning into a protective toe cap, full-length mudguard, and heel in patent leather for extra rigidity. The general style and application of materials stick true to the original '06 version, which complements the glossy VaporMax tooling well.
Visual upgrades include a new swoosh in iridescent silver, trimmed with thick black thread, debatably making the shoe more of the '00s era than the original 360. The tongue patch reads "VaporMax 360" as opposed to the "Air Max 360" original and the four eye stays have traded in their standard "2006" for a "2020" embellishment.